Here you will find corporate information for Sanyo Co., Ltd.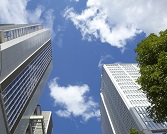 Basic information including our capital, business activities, and the history of our company.

Our corporate philosophy along with a message from the President, Kaito Kiyoshi.

Information on our headquarters in Tokyo and Osaka and our other offices along with access maps.